Water projects under consideration for implementation under the Programme for Infrastructure Development in Africa (PIDA) have increased significantly from just 2% of the first PIDA Priority Action Plan (PAP), which concluded in 2020, to 17% of the second PAP, which will run from 2021 to 2030.
This is largely due to efforts of the African Union Development Agency (AUDA-NEPAD), Global Water Partnership (GWP) Africa, and other partners to increase the visibility of water projects and improve the capacity of early stage project preparation by project owners. However, further urgent and concerted effort is required to find financing – both private and national – for priority projects in order to meet Africa's growing water needs.
These were the main outcomes of the "Mobilising resources for PIDA Water Projects" session, convened by GWP and AUDA-NEPAD on 18 January 2021 at the start of the 6th PIDA Week, an annual conference held to accelerate infrastructure implementation in Africa.
The session shared strategies and experiences for mobilisation of resources to transform the investment outlook for PIDA Water projects and other transboundary water projects prioritised by Lake and River Basin Organisations (LRBOs) and Regional Economic Communities (RECs).

"42 of the 242 projects were submitted by member states through their RECs under the PIDA Priority Action Plan 2 were from the water sector, a significant improvement over the nine projects that featured in the PIDA PAP 1 project list," said Mr Amine Adoum, Director for Programme Delivery and Coordination at AUDA-NEPAD, who opened the session.
Mr Amine Adoum, Director of Programmes Management and Delivery at AUDA-NEPAD
PIDA Water Programme improves investment outlook for water projects
Dr Towela Nyirenda-Jere, Principal Programme Officer at AUDA-NEPAD, said that the PIDA Water programme had been launched in collaboration with GWP following a 2017 review of transboundary water projects under PIDA PAP 1, which revealed little progress in the implementation of water projects as compared to other three PIDA focus areas: ICT, Energy, and Transport.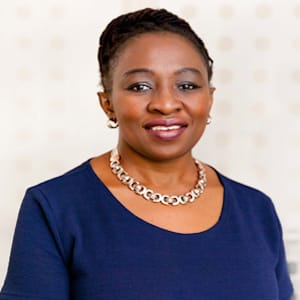 Dr Towela Nyirenda-Jere, Principal Programme Officer at AUDA-NEPAD
The PIDA Water Programme addresses low capacity for project preparation; inadequate financing; and lack of clear institutional arrangements for implementing the PIDA-PAP, including the role of the RECs, LRBOs, and Member States.
"The PIDA PAP 2 project list needs to reflect Africa's growing and urgent need for water. We need to strengthen the institutions on the continent that manage transboundary water resources, including cooperation between regions to ensure maximum stakeholder cooperation," she added.
"AUDA-NEPAD welcomes partnership with GWP and looks forward to collaborating under the ambit of the African Water Investment Programme to see the water projects implemented," said Dr Nyirenda-Jere.
Urgent need for financing of PIDA water projects
Lack of financing is a critical challenge for PIDA Water projects. To address this, AUDA-NEPAD and GWP are developing a resource mobilisation strategy.
"The resource mobilisation strategy is being developed to promote the financing of PIDA PAP 2 priority water projects to potential public and private sector financiers, broker strategic linkages between project owners and suitable financiers while providing ongoing facilitation of resource mobilization through project cycles", said Dr Loreen Katiyo, GWPSA's Transboundary Water Governance & Environment Specialist.
Dr Loreen Katiyo, GWPSA's Transboundary Water Governance & Environment Specialist
Global Water Partnership's support to the PIDA Water Programme is within the context of the Africa Water Investment Programme, which aims to mobilise USD 30 billion in investments for climate resilient water projects on the continent by 2030. Activities will be housed by the AIP PIDA Water Investments Support Programme which will strengthen the enabling environment for planning, project preparation, and financing of integrated regional and transboundary water investments that are coordinated with investments in energy, food health, ecosystems, and the Covid-19 regional recovery plan.
Private sector investment in African water sector needs to increase
Mr Graham Chingambu, DBSA's Regional Fund Manager for the SADC Water Fund, said that the private sector investment in the African water sector is low. Only about USD 3 billion was invested in Sub-Saharan African water projects compared to USD 41,7 billion in East Asia and the Pacific and USD 36 billion in Latin America and the Carribean since 1990.
Private investors are deterred by the absence of defined market structures as well as predictable policy and regulatory environments at national and regional level for cross boarder projects. In addition, the risks associated with cashflow due to mismatches between revenues and debt currencies, the lack of innovation and application of new technology in the African water sector, and the lack of profitability of water utilities are barriers to private sector investments in the sector.
"However, opportunities do exist to attract private sector investors through innovative financing mechanisms that leverage development financing to help de-risk projects. Doing so requires structuring a portfolio of bankable projects that, among others, promotes more efficient use of water resources, climate resilience, cross boarder water infrastructure, and introduces innovative technologies in the sector," he said.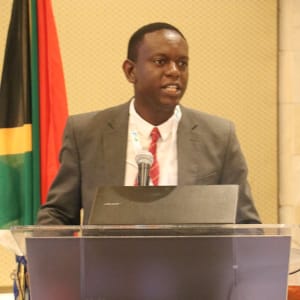 Mr Graham Chingambu, DBSA Regional Fund Manager for SADC Water Fund
Mr Chingambu said that the DBSA hosted SADC Water Fund, building on the continental initiative of the AIP, is leading an approach via a Regional Investment Program for SADC that will seek to leverage development funding to help promote private sector participation in the water sector.
PIDA Water Project Case Study: Lesotho-Botswana Water Transfer (L-BWT) Project
Given the transboundary nature of PIDA Water Projects, their implementation is more complex and requires coordination and collaboration between actors and stakeholders across transboundary river basins. One successful case is the Lesotho-Botswana Water Transfer (L-BWT) Project that is being implemented within the Orange Senqu River Basin shared by Botswana, Lesotho, Namibia, and South Africa.
"The overall purpose of the L-BWT Project is to deliver, from the Makhaleng dam, 150 million cubic metres of water per annum to Botswana, and 50 million cubic metres of water per annum to both Lesotho and South Africa. The project has also been prioritised by the African Ministers' Council on Water (AMCOW) level and is currently also being considered for PIDA PAP 2", said Mr Lenka Thamae, Executive Secretary.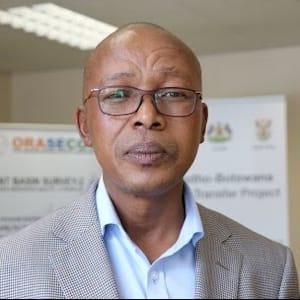 Mr Lenka Thamae, Executive Secretary Orange-Senqu River Commission
Mr Thamae said EUR 5 million has been raised for the project thus far, and that the pre-feasibility study was close to completion.
Mr Thamae said that feasible hydropower projects and projects that delivers water to big cities had the potential to attract private sector investment. However, he added that that should be balanced with the need to build climate resilience in African communities and deliver water to rural communities.
New decade, new realities
The PIDA Water session was attended by close to 100 participants from the water and related sectors which include representatives from river basin organisations (RBOs), water and other ministries within Africa, regional economic communities (RECs), international cooperating partners (ICPs) implementing partners for water and related projects, and government implementing agencies from within and beyond the continent.
The session formed part of the 6th PIDA Week convened annually by the AUDA-NEPAD. The event is being held virtually from the 18th to 21st January under the theme "New decade, new realities, new priorities positioning PIDA and infrastructure development in Africa's continued growth and economic recovery".