A High-Level Panel Expert Advisory Group was formally inaugurated to support the work of the International High-Level Panel on Water Investments for Africa during Stockholm World Water Week on 30 August 2022.
The Expert Advisory Group will support the work of the International High-Level Panel on Water Investments for Africa; and is co-chaired by the Republic of Senegal and Kingdom of the Netherlands. The group is made up of over 40 experts across various disciplines including water, finance, public administration, and ecology in both Africa and the global north.
The International High-Level Panel on Water Investments for Africa was launched by H.E. Macky Sall of the Republic of Senegal in March 2022, with the purpose of developing an a high level report and investment plan with pathways for countries to mobilise US$30 billion annually by 2030 to close the existing water investment gap in Africa.
The Panel is co-chaired by H.E. Macky Sall; H.E. Mark Rutte, Prime Minister of The Kingdom of the Netherlands, in his capacity as co-host of the UN 2023 International Decade for Action on Water for sustainable development; H.E. Hage Geingob, President of the Republic of Namibia in his capacity as host country of the Presidency of African Ministers' Council on Water (AMCOW); and an alternate Co-Chair, H.E. Jakaya Kikwete, Former President of the United Republic of Tanzania, in his capacity as chair of the board of GWPSA-Africa Coordination which is the host of the Secretariat for the Convenors of the Panel.
"The Expert Advisory Group will define and propose a roadmap for mobilizing investments in the water sector in order to strengthen Africa's resilience to climate change," said Hon. Serigne M. THIAM, Minister of Water and Sanitation for Senegal.
"The experts will consolidate political commitments and partnerships to support the work of the Panel and aide in the implementation of concrete actions towards COP27 and the United Nations Water Conference of 2023," added Hon. THIAM.
The experts will lead in the development of the Panel's High-Level Report and Investment Action Plan, which will be launched during the United Nations Water Conference of 2023 and presented to the AU Heads of State Summit in June 2023. The African Union Commission water policy will also be developed.
Urgent action needed to secure African water security
H.E. Josefa Sacko, African Union Commissioner for Rural Economy and Agriculture said the Panel would address the critical water challenges faced by Africa including face food insecurity, climate change, and lack of sufficient infrastructure to support the continent's rapidly urbanising population – in a statement read by Mr. Harsen Nyambe, African Union's Director of Sustainable Environment and Blue Economy.
The Panel's efforts to establish water as a high-level political priority will be supported by continental efforts to transform the investment outlook for water by way of an enabling policy environment.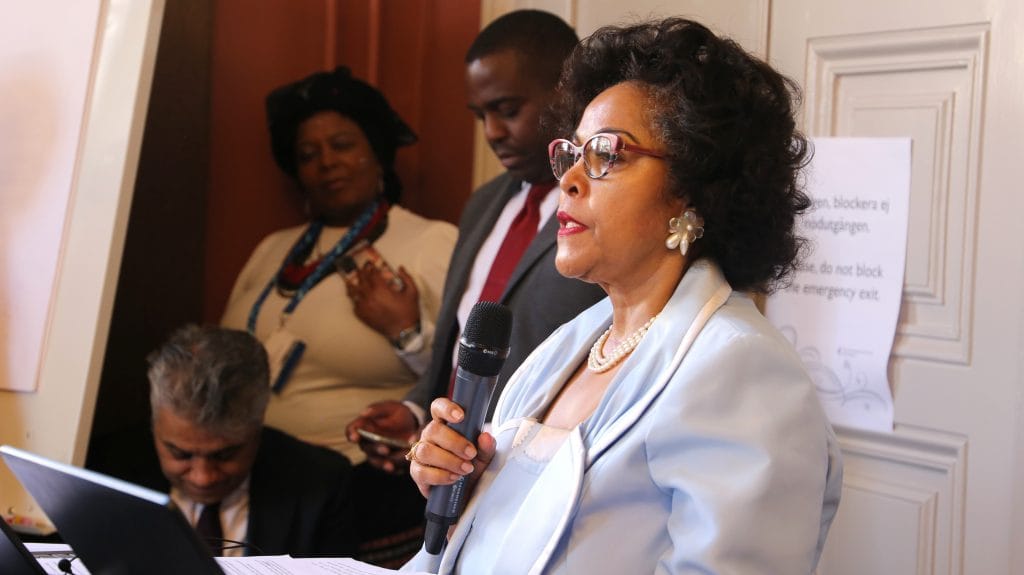 "The African Union Development Agency – NEPAD is committed to supporting the infrastructure development and investment into the water projects in the Programme for Infrastructure Development in Africa-Priority Action Plan (PIDA-PAP)," said Ms. Nardos Bekele-Thomas, Chief Executive Officer of AUDA-NEPAD.
"What has now emerged as critical is the urgent need to find financing from international, private and national sources for these priority water projects. We will be bringing the private sector on board and our support will be on de-risking water investments so that companies feel comfortable and safe to invest in water," she added.
The Panel will support the implementation of the Continental Africa Water Investment Programme (AIP), which was adopted as part of PIDA-PAP 2 in February 2021, for the purpose of mobilising US$30billion annually by 2030 towards water and sanitation in Africa and creating 5 million jobs.
A central role for water in political discourse ahead of the UN 2023 Water Conference
"Water enables development in all sectors, but we are still approaching investment in water in a fragmented way. Water in itself needs to assume a central role at the highest level of political discourse," said Hon. Calle Schlettwein, Minister of Agriculture, Water and Forestry for Namibia and President of AMCOW.
During the event, the Kingdom of the Netherlands confirmed that the Panel would be an important input and output of the UN 2023 Water Conference, to mark the midterm Review of the Implementation of the International Decade for Action on Water.
"Water's linkages to all socioeconomic development is not well understood and this leads to diversification of attention from a political level. This is why this Panel is so important: there is high-level political mobilisation partnered with local action," said Amb. Henk Ovink, Special Envoy for International Water Affairs for the Kingdom of the Netherlands.
"We can reach our goal of water security if we hold hands across sectors and across borders. The Panel will provide a coalition of the willing in Africa and beyond, that will de-fragmentise the sector," said Amb. Ovink.
Mobilising national commitments towards water security
The event also served to showcase country-level commitments and partnerships towards water security, which require the urgent mobilisation of financing, and will be supported by the Panel.
In a special address by the Kingdom of Lesotho focused on the country's water management initiative RENOKA, H.M. Letsie III said: "It is our hope that the High-Level Panel will provide necessary political leadership and impetus to commence a well-coordinated plan of action, creative partnerships, and secure financing mechanisms for the restoration of the ecosystems. We would like to take this opportunity to make this clarion call to our development partners to pledge and fulfil their pledges to increase the level of investments in water resources for Africa."
The Republic of Zambia presented the US$6bn Zambia Water Investment Programme which was developed in response to the Panel's objectives and launched by H.E. Hakainde Hichilema, President of Zambia, on the margins of the Africa Union Mid-Year Coordination Summit Meetings in Lusaka, Zambia earlier this year. The Zambia Water Investment Programme aims to create 1mn jobs.
"It is clear that Zambia cannot achieve these aspirations on its own but will need to partner with key stakeholders particularly the private sector," said Hon. Mike E. Mposha, Minister of Water Development and Sanitation in Zambia.
The Republic of South Africa's Minister for Water and Sanitation, Hon. Senzo Mchunu, said that the country's National Water and Sanitation Master Plan articulates the prioritised actions and investments required between now and 2030 to ensure a water secure future supporting inclusive development across the country.
However, the current capital requirement of the sector totals approximately R90 billion per annum.
"A funding gap of R 333 billion is anticipated over the next 10 years between required funding  (R 898 billion) and available funding (R 565 billion)," said Hon. Mchunu.
"Water is life for children but millions of children across Africa still do not have sustainable access to sufficient water. If we are serious about our goal of water security and sanitation for every child, we must increase financing for water investments in Africa. That's why UNICEF is a strong supporter of the Continental Africa Water Investment Programme (AIP) which is helping mobilize partnerships and increasing vital international financing," said Catherine Russell, Executive Director of UNICEF.
"As we approach the UN 2023 Water Conference, we have a unique opportunity to make these commitments a cornerstone of a transformative water action agenda," she added.  
Attending the event, Mr. Ulf Källstig, Assistant Director General for Africa at Swedish Development Agency (SIDA) commended African leadership on the AIP and High-Level Panel. 
Meanwhile, Dr. Xavier Leflaive Team Lead, Resilience-Adaptation to climate change at the Organisation for Economic Co-operation and Development commended the establishment of the Panel and reaffirmed support to AUDA-NEPAD in development of the AIP-PIDA Water Investment scorecard, a tool to enhance mutual accountability and transparency in investment mobilisation and track progress and bottlenecks and areas for action.
The event was moderated by Mr. Alex Simalabwi, Executive Secretary and Head of the Panel Convenors Secretariat at the GWPSA-Africa.