The Executive Committee of the African Ministers' Council on Water (AMCOW) has formally noted and welcomed the nomination of His Excellency Dr. Hage Gottfried Geingob, the President of the Republic of Namibia, and the current host country of the Presidency of AMCOW as Co-Chair of the International High-Level Panel on Water Investments for Africa.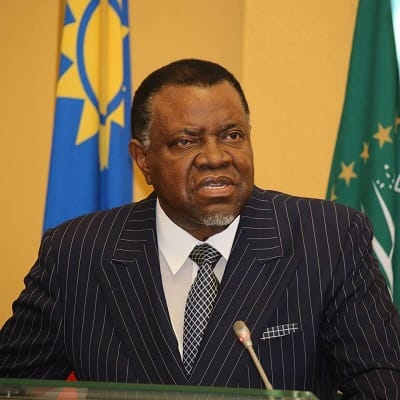 The AMCOW Executive Committee further noted the nomination of the former President of the United Republic of Tanzania, His Excellency President Jakaya Kikwete as the alternate Co-chair of the International High-Level Panel on Water Investments for Africa.
The Panel will be convened over 2021-2023 by AMCOW, along with the United Nations Development Programme (UNDP), United Nations Children's Fund (UNICEF), African Union Development Agency (AUDA-NEPAD), African Development Bank, Global Center on Adaptation (GCA), and Global Water Partnership (GWP). The convenors signed a resolution stating their intent on 12 August 2021.
The purpose of the Panel will be to drive global political mobilization and international engagement to narrow the water investment gap on the continent and meet the socio-economic needs for water, according to the Terms of Reference agreed by the convenors.
The Panel's goal is to improve the investment outlook for climate resilient gender transformative water security and sustainable sanitation, and to address the twin challenge of climate change and the Covid-19 pandemic and make Africa resilient towards future pandemics.
The Panel will develop a high-level action-forcing report and investment plan for the 2023 UN Conference and African Union Heads of States with a clear pathway and recommendations for countries to mobilize US$30 billion/year towards bridging the water investment gap in Africa, which is currently estimated at US$45-US$54 billion/year.
The Kingdom of the Netherlands, host government of the GCA and co-host of the 2023 UN Conference on the Water Action Decade, will be approached to co-chair the Panel as a representative of the Global North.
The Decision (EO/EXCO/2/2021/WDH/4) of the AMCOW Executive Committee was made during the Second Extra-Ordinary Session of the Executive Committee of the Governing Council of AMCOW held virtually on 8 October 2021. The EXCO was attended and chaired by the AMCOW President, Honourable Carl Hermann Gustav Schlettwein, Minister of Agriculture, Water and Land Reform of the Republic of Namibia. AMCOW Vice Presidents – the Water and Sanitation Ministers from Central, Eastern, Western, North, and Southern Africa attended the meeting. The EXCO was graced by H.E Ambassador Josefa Leonel Correia Sacko – African Union (AU) Commissioner for Agriculture, Rural Development, Blue Economy and Sustainable Environment (ARBE).
Download the full Press Release on the AMCOW Executive Committee Decision regarding the International High-Level Panel on Water Investments for Africa here.