African Ministers responsible for water, together with the International High-Level Panel on Water Investments, have urged the African Union Member States to support Continental Africa Water Investment Programme (AIP) initiatives and to develop national water investment programmes in order to mobilise investments into climate resilient water security and sustainable sanitation on the continent.
This is part of the joint Communique issued as a contribution towards the Nairobi Declaration, the key outcome from the Africa Climate Summit in Kenya, which ended today 6 September 2023.
Ministers responsible for water in Egypt, Kenya, Zambia, Zimbabwe, as well as the United Kingdom, along with partners including the African Union Development Agency-NEPAD, the African Development Bank, UNICEF, Green Climate Fund, Development Bank of Southern Africa called for the urgent need to mobilise investments for water to address increasing climate change induced risks to water. Watch the full session here. 
Water investment gap is a risk to Africa's climate adaptation and socioeconomic development
"Climate change has a direct impact on the water cycle and has brought about an acute water crisis. The consequences for development, for biodiversity, indeed for all life on the planet are dire and most severely affecting Africa and her communities," said Dr. Hani Sewilam, President of the African Ministers' Council on Water and Minister for Water Resources and Irrigation for the Republic of Egypt.
Dr. Sewilam added that inadequate investments in water has affected the gains made across all the Sustainable Development Goals and role that water resilience and safely managed sanitation plays to climate change adaptation and contributing to socio-economic development.
"Financing and investments in water in Africa are lacking and it is estimated that at least US$30 billion additional finance needs to be mobilized annually by 2030 to meet SDG 6 targets on water and sanitation. Currently, only US$10-US$19 billion is invested each year," added Dr. Sewilam.
The Continental Africa Water Investment Programme (AIP) is an African Union programme adopted in 2021 that seeks to close the water investment gap.
Investment outlook for African water projects to align to green growth, adaptation ambitions
Kenyan Cabinet Secretary for Water, Sanitation and Irrigation, Hon. Alice Muthoni Wahome, called on African governments to invest in water while also seeking out multi-sectoral multifaceted approaches for the development and financing of projects. She added that projects should encourage green growth, while assisting African countries to adapt to climate change.
Meike van Ginneken, Water Envoy for the Kingdom of the Netherlands and Sherpa to High-Level Panel Co-Chair and Dutch Prime Minister H.E. Mark Rutte said that investors are looking for climate resilient water projects.
"Increased financing starts with dependable revenue streams. Governments need to target their public finance and spend their water budget in a timely manner. With steady revenue streams and with strong institutions, Africa can mobilize financing both domestically and internationally," said van Ginneken.
The United Kingdom also confirmed its support to working with African governments to close the water investment gap. Minister for Development, Hon. Andrew Mitchell, encouraged governments, the development community, and international investors get behind efforts.
 "Britain will be right at the heart of helping with this in terms of funding, in terms of assisting with structures, in intellectual input and problem solving, in partnerships, and in technical assistance," said Hon. Andrew Mitchell.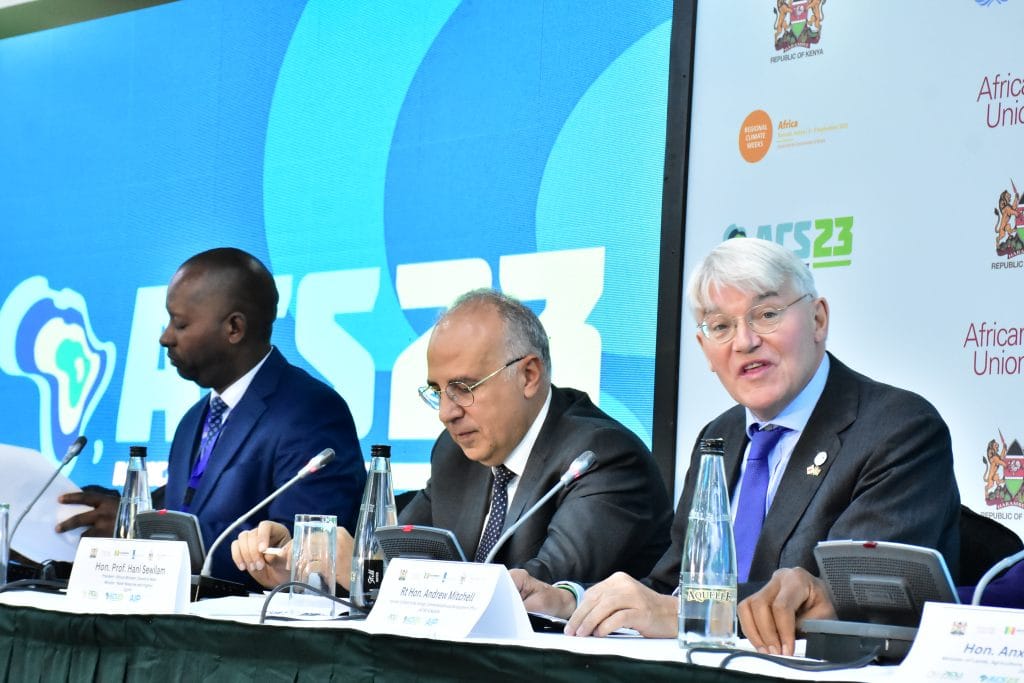 Africa Water Investment Partnership to strengthen cooperation
The Ministers and partners agreed to cooperate within an Africa Water Investment Partnership that would be set up as a neutral platform under the AUC. The partnership would enhance synergies with other relevant pan-African coordination mechanisms to increase collaboration in mobilising investments for AU Member States through matchmaking the supply of capital and demand for finance.
"Shortfalls in the required funding to address climate change and related water cycle aspects remain significant. The proposal to step up domestic financial resources is pivotal, but by no means the silver bullet to solving everything. We are facing a global water crisis which requires global solutions, specifically the financial needs for the water agenda," said Hon. Calle Schlettwein, Minister of Agriculture, Water and Land Reform for the Republic of Namibia.  
Investment Action Plan to mobilise resources
African Union Member States were also urged to adopt and implement the recommendation of the High-Level Panel Report, Africa's Rising Investment Tide, which outlines three pathways and a five-point action plan to mobilise US$30billion/year to achieve water security and sustainable sanitation on the continent.
The Co-Chairs of the High-Level Panel are H.E. Macky Sall; H.E. Mark Rutte, Prime Minister of The Kingdom of the Netherlands; and H.E. Hage Geingob, President of the Republic of Namibia. H.E. Jakaya Kikwete, Former President of the United Republic of Tanzania, acts as Alternate Co-Chair.
The High-Level Panel's report was released during the UN 2023 Water Investment Conference in March 2023 and has been named a significant outcome of the event.
The High-Level Panel is currently in the process of developing an Investment Action Plan that will in effect operationalise the report. The Investment Action Plan will detail specific actions needed to mobilize financing, the levels at which these actions are required, and the responsible persons to implement those actions. The Plan is planned for release in last quarter of 2023.
The High-Level Panel will also launch its campaign, Mind the Gap – Invest in Water, on the sidelines of the United Nations General Assembly in New York on 19 September 2023. 
"The campaign will raise awareness, influence change, and ultimately prompt behaviour change that can result in the mobilisation of investments towards climate resilient water security and sustainable sanitation in Africa," said Alex Simalabwi, Director of the High-Level Panel Secretariat. 
The full Communique adopted during the Accelerating Climate Resilient Water Investments in Africa Ministerial side-event to the Africa Climate Summit can be downloaded here. Watch the full video of the Ministerial session here.