The following article summarising the main activities undertaken under the AIP during 2022 was written by Alex Simalabwi, Head of the AIP Technical Support Unit which is hosted by Global Water Partnership Southern Africa and Africa Coordination (GWPSA-Africa). Mr. Simalabwi is Executive Secretary of GWPSA-Africa.
During 2022, we were repeatedly reminded of the urgent need to make investments in water security central to climate adaptation activities – especially in Africa. Over 36 million people were affected by extended and ravaging droughts in the Horn of Africa this year; more than 600 people died in flooding during Nigeria's worst floods in a decade; and close to 1000 people were killed in severe storms in Southern Africa. Every single region of the continent was affected by extreme weather events this past year and water was the connecting thread between them.
Flood and drought related emergencies rightfully force us to prioritise water-related climate adaptation actions because they threaten human and animal life. Beyond this, we are compelled to advocate for increased investment in water and sanitation because Africa's economic and development potential is at stake.
Africa's lost opportunities
Sub-Saharan Africa loses 5% of its GDP each year due to a lack of water and sanitation. The continent's youth population is expected to grow 42% by 2030, which gives us the opportunity to modernise and transform Africa's economy towards prosperity and peace. But we cannot do this without increased investments in sustainable and climate resilient water systems; not when one in four jobs are water dependent, nor when our women and girls spend 2.5 otherwise productive hours collecting water to meet basic needs.
Focus on water at COP27
It is for these reasons that we are encouraged to see the needle moving in the global United Nations Climate Change negotiations to reflect a higher profile of water security as a medium of adaptation and enhancing climate resilience. For the first time, the United Nations Climate Change Conference outcome document COP 27 adopted by governments in Sharm El Shelkh, Egypt, recognised that water systems have a critical role to play in delivering climate adaptation benefits and urged parties to further integrate water into their adaptation efforts. COP27 included a high-level roundtable on Water Security in the Heads of State Segment.
Importantly, Heads of State and global leaders from around the world united to call for urgent investment in Africa's water and sanitation sector. The International High-Level Panel on Water Investments for Africa was formally inaugurated during the Heads of State Segment, by Senegal, in her capacity of Chair of the African Union and Co-Chair of the Panel together with Co-Chairs, Kingdom of Netherlands, Republic of Namibia and GWPSA-Africa in collaboration with AUDA-NEPAD.
Africa's water investment gap
At least $30 billion/year needs to be invested to meet Africa's SDG 6 target, yet current investments are between USD $10 and USD$ 19 billion/year. The objective of the Panel is to develop actionable pathways for mobilising USD $30 billion annually by 2030, for implementing the Continental Africa Water Investment Programme (AIP) to close the existing water investment gap in Africa, which is estimated at USD $11-20 billion. The Assembly of the African Union Heads of States and Government adopted the AIP in Feb 2021, as part of the Programme for Infrastructure Development in Africa (PIDA).
The Panel was formally launched on 25 March 2022, during the 9th World Water Forum in Dakar, by H.E. Macky Sall, President of the Republic of Senegal and Chair of the African Union. A High-Level Panel Expert Advisory Group was formally inaugurated to support the work of the Panel during Stockholm World Water Week 2022. The Expert Advisory Group is co-chaired by African Union Commission (AUC) and AUDA-NEPAD comprises of over 40 local and international experts across various disciplines including water, sanitation, economics, finance, investments, legal, climate change, business, public administration and others.
Tools for accountability and transparency introduced
The Panel's work is complemented by the AIP-PIDA Water Investment Scorecard, a first of its kind mutual accountability tool to enhance transparency, track progress, identify bottlenecks, gaps and promote peer to peer learning in the mobilisation of water investments in Africa. The Scorecard was adopted by the Assembly of the African Union Heads of States and Government in February 2022.
Developed under the leadership of AUDA-NEPAD and over 25 partners, ten African countries have so far piloted the AIP-PIDA Water Investment Scorecard: Malawi, Benin, Cameroon, Tunisia, Uganda, Zambia, Kenya, Tanzania, Central African Republic and Togo. In November 2022, Malawi and Benin became the first countries to formally validate their first scorecards.
Capacity building and support for water projects
Collaboration with AUDA NEPAD on transboundary PIDA water projects under PIDA resulted in increased number of transboundary water projects from just 2% in the first PIDA Action Plan to 17% in the current PIDA Action Plan for 2020-2030. We have provided technical assistance to over eleven transboundary water projects across Africa with 3 projects receiving funding for project preparation and the Lesotho Botswana Water Transfer receiving an award for excellence in project preparation.
Enhancing gender equality and climate resilience in the planning and decision processes and institutions for water investments is central to the AIP. The AIP support programme on water, climate, development and gender equality (AIP-WACDEP G) supported the African Union Commission (AUC) to strengthen their continental policy coordination mandate through increased capacity of the AUC's water and environment unit. AIP WACDEP-G also supported the African Ministers Council on Water (AMCOW) to develop the integrated Youth Gender and Social Inclusion Strategy, that was launched by AMCOW at the 9th World Water Forum.
Five countries and transboundary river basins were supported to develop tools that will enable governments to address systemic inequalities in decision-making, planning, and implementation of investments, by strengthening gender and climate resilience institutional and water investment planning processes. The countries are Benin, Cameroon, Uganda, Tunisia, and Zambia in the following basins: North-West Sahara Aquifer System, Volta Basin, Lake Chad Basin, Kagera/Lake Victoria Basin, and Zambezi River Basin. This resulted in enhanced capacity to design water projects that are fit for purpose, climate resilient, and sensitive to gender imbalances. The five basins also enhanced gender and climate resilience planning processes.
Focus on mobilising resources for water security
The United Nations Development Programme, in collaboration with UNICEF, GWP Africa and the SADC Water Fund hosted by the Development Bank of Southern Africa (DBSA), initiated the process to assess the need and potential of for the AIP International Blended Investment Facility to leverage public-private finance. The Blended Investment Mechanism will support countries to leverage ODA and grant finance to de-risk priority water investments using a variety of innovative financial instruments and sources. These include sovereign wealth funds, guarantees, commercial finance, institutional investors and private equity investors, foundations, value-based impact investment, and climate finance.
The AIP is also catalysing country-led water investment programmes and partnerships to develop pipeline of water investments programmes with pipeline of bankable projects. On 16 July 2022, the Zambian Government launched a US$6 billion Water Investment Programme, expected to benefit hundreds of thousands of people in the country, in partnership with the International High-Level Panel on Water Investments for Africa, during the African Union 4th Mid-Year Coordination Meeting of Heads of State and Government in Lusaka. On 11 March 2022, the Zanzibar Government launched the Zanzibar Water Investment Programme, which will mobilise over USD665.5million towards securing clean and sustainable water supply for the island's population and fast-growing economy.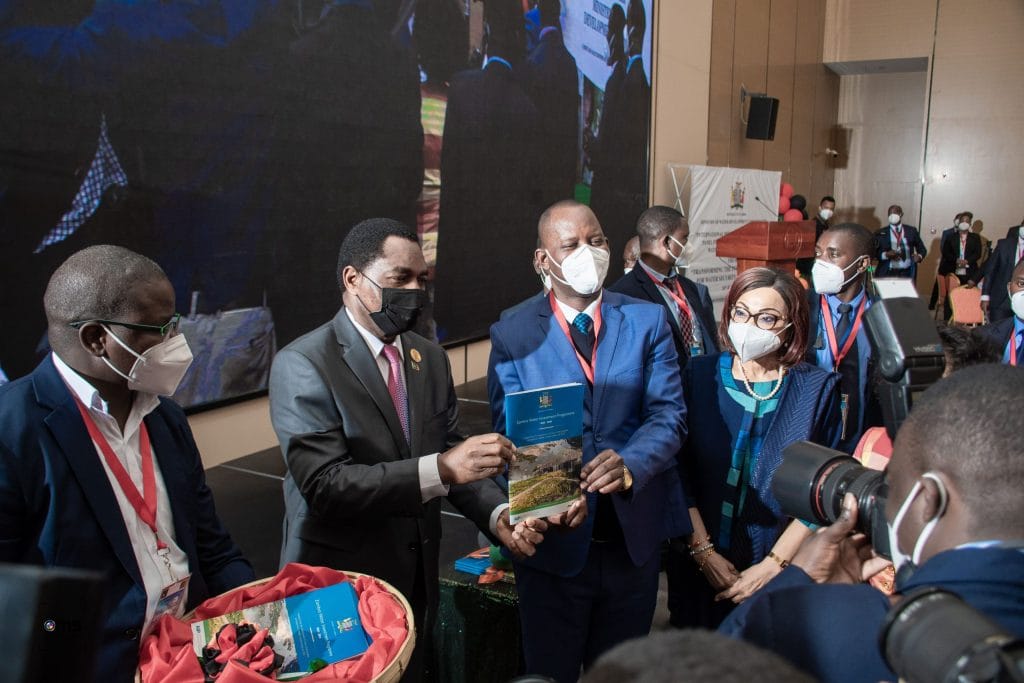 As 2022 draws to a close, we remain grateful to our partners across and beyond Africa for their consistent support and collaboration. As we prepare for the UN 2023 Water Conference in March 2023, we commend the Co-Chairs of the AIP High Level Panel, Heads of States and panel members for their leadership and commitment to transform water security and sustainable in Africa. We reaffirm our commitment and continued collaboration with AIP partners to enhance water security for all towards the SDGs and Agenda 2063.